Simon Suites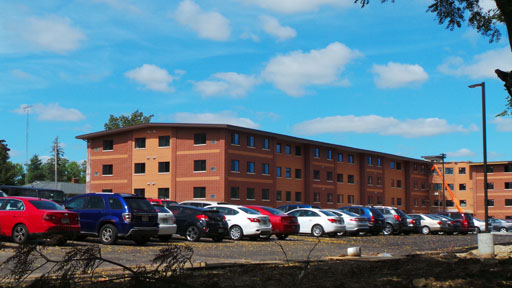 1037 W Starin Road
Simon Suites is DLK's newest property located less than one block away from the UW-Whitewater campus. These premium apartments range from one to four bedrooms and include several accessible units for individuals with disabilities, as well as being equipped with an elevator for general ease of access. Like most of our apartment buildings, Simon Suites includes almost all utilities, making the rent affordable even in a building as new as this one. Start dates for leases do vary by apartment, but some are available with August 1st and August 28th start dates. Additionally, Simon Suites offers the ability to lease a bedroom within a four-bedroom unit to share with others.
1 & 2 Bedroom Lease Date Options: 6/3/2022-5/12/2023
3 & 4 Bedroom Lease Date Options: 6/3/2022-5/12/2023, 8/1/2022-5/12/2023
2-4 Bedroom Units Include 2 Bathrooms
Brewed Awakening "Coffee Shop" serves continental breakfast during academic year
Laundry on Each Floor (Coin-Operated) and 4-Bedroom Apartments Include In-Unit Laundry
No Pets Allowed
DLK Off-Street Parking Available (Semester Permit Required)
Heat, Water, & Wireless Internet Included (Ethernet Port Provided for Fee)
Tenants Pay Electric
---
Rent prices vary depending on unit signed and are based on one occupant per bedroom. Please note that adding additional occupants may change rent pricing and you should call for specific information.